A Message from Don Rivard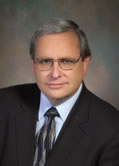 If you came to this website, you are probably worried, confused, or maybe even scared because you have a problem that requires legal representation.

Since 1975, I have been a neighborhood practitioner.
I represent people. I draft their estate plans, handle their
real estate transactions, and probate their estates.
I represent them in divorces, child support and custody litigation. I represent them in criminal matters and protect
their rights when they are injured. Not only do I practice in Dearborn Heights, I also live here and am actively involved
in the community.

Clients want someone to listen to them and explain what's happening top them in clear language. That's how I handle my practice. I know that a lawyer has a solemn obligation to represent his clients to the best of his ability. Clients have a right and a need to know exactly what is happening with their case at all times. I will keep my clients informed of all developments and return their calls promptly.
Here's my background:

Education:
Undergraduate degree: University on Michigan 1970
Juris Doctor: Detroit College of Law 1974

Experience:
General Practitioner 1974-present.
Practiced at 24624 W. Warren since 1982.
Expertise: Probate, Estate Planning, Divorce and Family Law, Criminal, Worker's Compensation, Real Estate, Landlord Tenant, Personal Injury, Social Security Disability.
I have practiced at all Levels from the District Court through the Michigan supreme Court.

Community Involvement:
Member, Past President Dearborn Heights Lions Club 1991 – Present
Member Past President Dearborn Heights Chamber of Commerce 1979-President
Volunteer Dearborn Heights Goodfellows
Member, Past President Dearborn Bar Association 1978 – Present.

Honors:
Rated AV, Martindale Hubbell Lawyer's Directory ( Highest Rating ) for the Last 20 years

Named one of Detroit's Top Lawyers dBusiness Magazine November/December 2009 Issue.